Program description
Friday May 9th, 2014, 17.00 – 19.30
Foundations: Learn how to move with your body instead of against it.
In this workshop we will explore basic asanas, with a particular focus on alignment and breathing, as well as how to link the asanas into a flowing sequence. We will cover the sun salutations & standing poses, building a solid foundation from which to progress and get the most out of your practice. By moving with your body's natural alignment, the prana will flow through you without blocks stopping it.
Technique Class suitable for all from complete beginners to advanced.
Saturday May 10th, 2014, 10.00 – 12.30
Float back and float through - Bandha, Drishti & Vinyasa
Locate your locks and move into your breath to free your practice. One of the challenges of the Astanga flow is the Vinyasa. Breaking the it down into its components, we will look at ways in which we can work towards achieving the float back and float through by combining various techniques with breath, Bandha, foundation, alignment and Drishti. With these under control, anything can become possible!
Technique Class suitable for all from complete beginners to advanced.
Saturday May 10th, 2014, 14.30 – 17.00
Overcome challenging poses with intelligence, patience and grace
Darby & Joanne will be unpicking and deconstructing challenging poses and we will learn to approach those using anatomical principles with an open mind, excitement and fun. You will be presented with both modifications and full poses, to suit each student's ability and sense of adventure. To this workshop you can also bring whatever challenging pose you are presently working on and get advises and insights from on how to work with them.
Technique Class suitable for all from complete beginners to advanced.
Sunday May 11th, 2014, 10.00 – 12.00
Led class - full primary
You will be guided in a continuous flow along all of the way through the primary series from the opening sun salutations to the closing sequence. You will create a heightened sense of awareness through breath and asanas.
Led Class, suitable for all who are presently on Basis level and beyond. You might be challenged with new poses, but join in and bring some patience and a sense of humour.
Sunday May 11th, 2014, 14.00 – 16.30
Back bending - Learn how to create free flowing movement in your back
Understanding back bends - take the pain and fear out of back bends. We will work step by step in practicing the key alignment points that help us practice these poses with ease and safety. We will help students build confidence while finding ways to work with common issues surrounding these poses with a focus on how to protect vulnerable areas such as the lower back, shoulders and neck. Not to be afraid... if you have a sore back or back injury, it is a must!
Technique Class suitable for all from complete beginners to advanced.
Monday May 12th, 2014, 12.00 – 14.30
Opposites in Asanas: Connecting with Bandha, Core and Breath
Bandhas: No stability without core! Improve your practice through simple exercises and key asanas
We will explore the interdependency and contradictions of the apparently opposite actions of connecting to the core versus stretching through the limbs. This will allow you locate your locks and move into your breath to free your practice!
Technique Class suitable for all from complete beginners to advanced.
Tuesday May 13th, 2014, 12.00 – 14.30
Twist and length - Side twists & forward bends
Twists help remove stiffness in the back, neck and shoulders and tone the internal organs. We will incorporate the standing, and sitting twists into a workshop that improves digestion and brings more flexibility into the spine. Forward bends; stretching with alignment, protecting the lower back and hamstrings and finding real length through reaching from your core.
Technique Class suitable for all from complete beginners to advanced.
Wednesday May 14th, 2014, 12.00 – 14.30
Arm balances – Push and lift with ease and grace
This class is for those challenged by arm balances and for those who love them! We will explore poses that will strengthen and prepare for arm balances. Basic shoulder alignment will be built through simpler poses and carried forth to full arm balances.
Technique Class suitable for all from beginners to advanced.
Thursday May 15th, 2014, 12.00 – 15.00
Adjustment Clinic – the art of adjusting yoga asana
For those with an interest in taking their practice deeper Darby & Joanne will share their knowledge and expertise in teaching skills and giving adjustment to students gained through years of teaching and practicing. You will work with teaching and adjustment technique for different poses, both basis and more advanced. You will gain teacher training walk-away technical expertise and add new dimensions and knowledge to your practice. Appreciate.
This class is highly recommended for anyone who is currently teaching yoga or for those students at any level curious to learn more. Please note that you don't need to have the ambition to teach yoga or to be advanced practitioner to benefit from the adjustment workshop.
Mysore Schedule
Monday May 12th, 2014 to Thursday May 15th, 2014, Daily 6.30 – 9.00
Mysore practice
Experience the practice of Astanga yoga in its purest form with one-on-one instruction from senior certified teachers Darby & Joanne. They will share their knowledge of how to keep the practice energetic but soft by allowing the right energy to flow while in the postures. This invaluable learning process is a unique opportunity to work one-on-one with highly experienced teachers and get new insight and understanding to your personal practice.
Note! To get must attention from Darby and Joanne we try to keep the number of students at a fixed level. You get a specific starting time, so please write you preferred time when signing up. Depending on the number of students the Mysore program can be extended.
Priser og tilmelding
Weekend workshop (5 sessioner): d. 9.-11. maj.
Pris kr. 1500,- (200 euro)
Weekday workshop | Hverdag workshop (4 sessioner) inklusive Mysore (4 dage): d. 12.-15. maj.
Pris kr. 2625,- (350 euro)
Full packet | Fuld pakke (9 sessioner og 4 dages Mysore) d. 9.-15. maj.
Pris kr. 3750,- (500 euro)
Kun morgen Mysore og søndag Led class (4 days mysore and Sunday Led class) d. 11.-15. maj.
Pris kr. 1100,- (147 euro)
Single Session | Enkelte sessioner dkr. 450,- (60 euro)
Single Day Mysore | Enkelte Mysore klasser kr. 300,- (40 euro)
DK. Hvis du tilmelder dig enkelte sessioner så skriv hvilke sessioner du vil deltage i eller hvilke dage du ønsker at komme på Mysore. UK. If you sign up for individual sessions, please write the sessions you want to attend or which days you want to come to Mysore classes.
Signup
You signup by writhing us an e-mail with your name and what part you sign up for. All classes, weekend or weekday only, mysore....
Teachers

Marc & Joanne DARBY have been practicing Ashtanga Yoga for over 30 years.
They started their practice in 1979 under the guidance of the legendary Ashtanga Yoga Guru Sri. K. Pattabhi Jois and lived in Mysore for 4 years continuously studying with their Guru. They are both among the small handful of teachers worldwide who are certified to teach Ashtanga yoga by Pattabhi Jois.!
The teachings of Mark Darby are dynamic and at the same time very detailed, with accent on transmission of the essence and inner power of this yoga style. He pays a lot of attention to adjustments in asanas, bandhas and breathing. His attentive and warm approach attracts many students from all over the world. Mark is very interested in yoga philosophy, spiritual culture and heritage of India. He still visits this ancient land with his wife Joanne. Both of them are practicing kriya yoga in Lahiri Mahasai tradition.
Joanne is a source of inspiration to many yoga students around the world. For her, yoga goes beyond the asana practice...it is a way of life. After so many years of practice, she truly believes in the power, benefits and the transformative effect of the ashtanga yoga method.
Darby and Joanne runs the Sattva Yoga Shala in Montreal, Quebec, Canada.
Darby in Politikken TV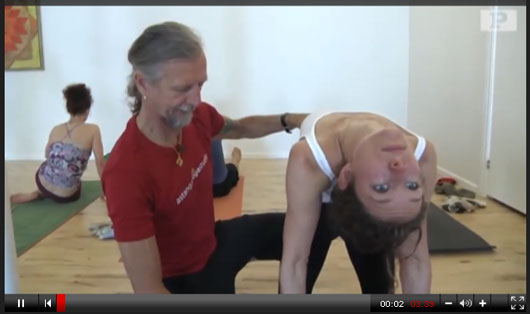 Darby on You Tube
Darby photos